Durable, High Performance & Strong Belt Conveyor System and Roller Conveyor System In Different Specifications For Various Industries Are Produced To Perfection By Us.
About Us
In industries such as food, construction, steel, packaging and more, movement of heavy and bulky materials is impossible without material handling systems. Knowing the requirement of advanced material handling systems for safe and smooth materials handling, we, Devikrupa Engineers, bring forth PVC Food Belt Conveyor, Belt Conveyor System, Roller Conveyor System, Vertical Screw Conveyor Machine, Truck Loading Belt Conveyor along with a host of various other conveyor belts.
Our 1965 formed renowned business organization is playing key business roles of manufacturer and supplier and meeting the needs of customers for application specific material handling systems. Our modern production unit located in Ahmedabad, Gujarat (India), is equipped with high tech manufacturing systems, using which our experts introduce an advanced technology product line of conveyor systems.
As a sole proprietorship firm, our company is being sincerely led by Mr. Harshil Jagdishbha Panchal, who hold great business acumen and industry knowledge. His analytical mindset is one of the reasons our company never misses out on any opportunity of proving its worth in the competitive material handling industry.

Quality
Adapting We Can attitude, we are maintaining the best standards in our range of conveyors. We believe in continual product improvement which is why we employ modern production techniques at all production stages and ensure advanced and innovative product line of conveyors is designed and developed at our company. Post production, we conduct sessions for quality testing and ensure only approved and high performance conveyor systems are supplied to customers.

Infrastructure
The smooth functioning of our business operations is the result of our vast infrastructural facility. We have a modern house for producing Truck Loading Belt Conveyor, Batch Mixing Plant Screw Conveyor, PVC Food Belt Conveyor and other conveyor systems. With latest machines and precision engineered tools, we design and develop a high tech range, which proves value for money by working exceptionally and giving 100% accurate results.

Valuable client
Hd microns limited
Fairmate chemicals pvt ltd
Grainspan nutrients pvt ltd
Vg Engineers pvt ltd
Balkrishna boilers pvt ltd
Rohan dyes and intermediates ltd
Alankar boilers and pressure vessels pvt Ltd
Varmora plastech pvt ltd
Surya cold agri processing India llp
Aztec fluids and machinery pvt ltd
Saheb cold Storage

Why Choose Us?
Devikrupa Engineers is a noteworthy establishment that is following customer-centric policies to create a win-win situation for clients and the company. Our company is applying latest techniques of production, packaging and warehousing so that improvement in processes results in timely completion of all business tasks.
Given below are a few points that suggest why customers prefer us over other establishments:
Prompt products shipment
Strict quality assurance program
Genuine prices
Crystal clear business deals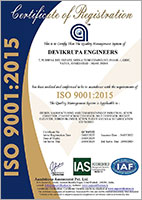 Get in touch with us